Ry Cooder has a new record out and it's getting rave reviews all over the globe, just like all his other records have. To be honest, he's an artist I didn't understand until recently. His soundtrack for Paris, Texas has been part of my collection in one form or another since the late 80s, and his slide work on it has never failed to mesmerize me, but I have to admit I was kind of stunned when I saw him clocking in at #8 on Rolling Stone's list of the 100 greatest guitar players of all time. Too much technique and not enough oomph, I thought. Too NPR-friendly. Too PC. Then I inherited a big chunk of my uncle's record collection -- lifelong guitar player's stack of wax, loaded with all the gods from Django to Jimi and beyond -- and in the middle of it are Ry Cooder's first two albums, and I have to say, I think old Rolling Stone got it right.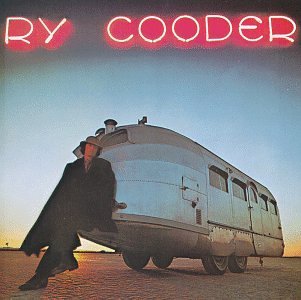 I listen to his self-titled 1970 debut and 1972's Into the Purple Valley constantly now. True, he's not a scorching guitar player. He doesn't make his axe scream, so he might not leap to mind when you're compiling a canon of rock. His sound is so laid back it's easy to miss the amazing fretwork behind it. But it's there, so smooth it's like liquid, but not so smooth that it loses its rock-and-roll slouch and punch. His maiden and sophomore LPs are my go-to records when I'm looking for the musical equivalent of a cold beer and a back rub. They're filled almost entirely with songs Cooder unearthed from the American songbook, some of which were buried quite deep, and they're all reworked a little bit to bring them in line with the times, but not so much that they shed their antique exoticness. Both records have a populist feel that complements and nicely contrasts Cooder's latest, Pull Up Some Dust and Have a Seat, a wide-ranging condemnation of the corruption that has fueled the current economic crisis. They're like hitchhiking across the country during harder times and getting a far different sense of America than you might get reading the morning paper or watching the evening news. Some of the stories are the same: from "How Can a Poor Man Stand Such Times and Live?" to "Taxes on the Farmer Feeds Us All," which begins, "We worked through Spring and Winter, through Summer and through Fall, but the mortgage worked the hardest and the steadiest of us all." But because they're all from the point of view of the common man, they have a warmth and sense of hope about them that's truly priceless. My two favorites are "F.D.R. in Trinidad" and Dickey Doo and the Don'ts' "Teardrops Will Fall," both on side one of Purple Valley -- the former because it's such an odd take on the New Deal, an upbeat and awkwardly worded account of the president's visit to the island nation, and the latter because it's a peerless specimen of American roots music, a song so cozy it makes me feel warm inside every time I hear it, despite the heartbreak lyrics.
Both records end with shining examples of Cooder's slide-guitar skills, Purple Valley with a foreboding recast of Woody Guthrie's "Vigilante Man," and his debut with Blind Willie Johnson's "Dark is the Night," the song he'd later use as the thematic foundation of his Paris, Texas soundtrack. Cooder conjures the depths and complexities of human emotion with his six strings on that number with a masterfulness that's on par with any great artist in any medium across the ages, let alone guitarists.