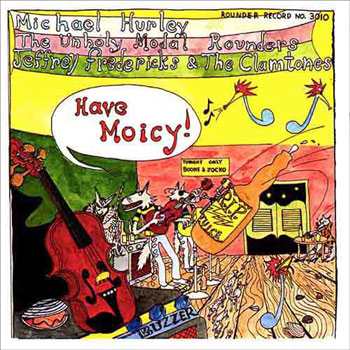 I don't like a lot of folky Americana music because it's too pretty and politically correct and not at all like America and American folk as they really are -- kinda good, kinda bad, and generally weird in a beautifully ugly sort of way. Michael Hurley's music is an exception. It's like the stuff you hope to find when you wander the backroads in the boonies not knowing what you're looking for. It's got all the ingredients of folky Americana -- vocals and acoustic guitar, mainly, with some electric guitar and bass, snare drum and fiddle thrown in here and there -- but it's lopsided, a little bit dirty and forlorn, like an old man selling junk out of the carport of his doublewide, a guy who's drunk and a little bit racist but friendly enough, and who happens to have something hideous and stupid but absolutely priceless that he'll let you have for a couple bucks. Hurley's music was like that even when he was in his early 20s, in the mid-60s, when he recorded his first batch of songs for Folkways, and he's stayed that way throughout his career of nearly 50 years and 19 albums that hardly anyone knows about.
I'd never heard of him before last March when my uncle played
Have Moicy!
for
me. It's a record Hurley did with the Holy Modal Rounders and Jeffrey Fredericks and the Clamtones in 1976. During the opening track, a hillbilly send-up of "Midnight in Paris," my uncle laughed and said, "This record should have never been released," because it's sloppy and silly. The cover has a crude drawing of a band of werewolves playing at a honky tonk, and the liner notes make no secret of the fact that the record was made in two days, songwriting included. My uncle loaned it to me and I listened to it a lot because it's so damned peculiar, and because it's mellow and perky enough to go well with my morning coffee. Then one of my favorite contemporary musicians tweeted something about Hurley, and I went looking for more info about him. I found out Robert Christgau put
Have Moicy!
at the top of his annual A-list for the
Village Voice
in '76 and called it "thirteen homemade, chalky, fit-for-78 songs that renew the concept of American folk music as a bizarre apotheosis of the post-hippie estate," and "the greatest folk album of the rock era." I can't disagree. All the songs are wonderful and odd. There's one about robbing banks and poaching chickens and another about a disappearing hamburger. I like the ones sung by Hurley the best because his voice has a way of nestling right into the coziest nooks of the melody and making you feel all warm and sad and happy inside -- even when the song is unapologetically dumb, like "Slurf Song," which begins, "Oh a little wishbone, I make a wish for a potato. I make wish! For a potato!"
I found out that a lot of Hurley's records are available on vinyl as reissues, so I snatched up a bunch. There's not a mediocre one among them, much less a bad one, and Hurley has quickly become one of the very few artists I can listen to anytime, in any mood, and honestly say, "This is perfect." Some of his records are solo acoustic, with maybe just a bit of female harmony vocal thrown in here and there. On others he plays with a full band of friends and hired hands. The songs are consistently simple and satisfying no matter how many people are playing on them, and they're always all quite lovely without ever being precious and idyllic the way a lot of folky stuff seems to be. And weird, too, endlessly weird and interesting, the way America is.
-
Joe Miller
Snock 'N Roll: Adventures With Michael Hurley (Complete Documentary Short)
from
Marc Israel
on
Vimeo
.