When I got back into collecting vinyl, my first impulse was to buy back all the stuff I owned before I went digital. The classics. But once I'd collected most of those, I wanted more, more, more. I'm not rich, so this means buying cheap – stuff that's in abundance in the used bins and in relatively low demand. (And some of which is not even available on CD.) I call this bounty low-hanging fruit. Last week I shared a few of my recent favorite finds. Here are some more:
Nilsson – Pussy Cats
If you believe the documentary
Who Is Harry Nilsson?
,
the late great singer/songwriter peaked with
Nilsson Schmilsson
and then binged his way through a bunch of mediocre-to-bad albums to oblivion. His tenth album,
Pussycats
, is singled out as a particularly low moment: party buddy John Lennon pushed him past the edge and blew out his beautiful voice. Which is true, except it leaves out the fact that it's flat-out gorgeous. I mean, come on. This is rock and roll. Destruction is an essential part of the aesthetic. And what else would you expect from Lennon (the man who took acid everyday for like a year or something as part of a conscious quest to destroy his ego, and who, by his own admission, succeeded) directing Nilsson (the man who'd ask friends out for a drink and they'd come home three days later without a clue of where they'd been or what they'd done). It's a spectacular mess of an album, and so weird. Yes, his voice cracks. There's only about three seconds of his unworldly high-pitched smoothness. And at times he actually sounds like Lennon on parts of
Imagine
and
Plastic Ono Band
. But he's raw in the best rock and roll way – like Sam Cooke at the Harlem Club or Joe Strummer or Bruce or any other gravel throat who's ever ripped the guts right out of your solar plexus. And he's surrounded with Lennon's fuzzed-out trippy pop arrangements. Mine cost twelve bucks, which is a little high for a low-fruit designation, but I'd have paid three more for it, even without the double gatefold full of mid-session snapshots of Nilsson and Lennon and everyone else who joined the party.
Grace Slick and Paul Kantner – Sunfighter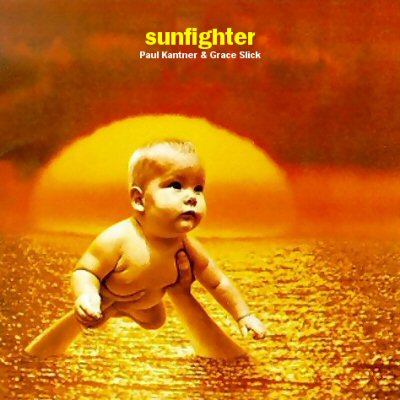 When I look at the cover of this album, I wonder what it was like being the daughter of a couple as freaky as Kantner and Slick. Baby China appears on the cover naked and chubby, held up toward the sun on the hands of her mom and dad, which are rising out of the sea. The gatefold opens to a photo collage of cosmic explosions, and the inner sleeve has a picture of Kantner and Slick side by side, both of them young kids -- him standing erect in his military uniform, her at a piano, sitting as straight as an Aryan, in her officer coat and tails. On the other side is a dystopian poem called "Pets." It's a very odd artifact in celebration of a newborn child, and it's made stranger still by the fact that it was mass-produced and sold around the world. I had a huge crush on China when I was in high school and she was an MTV VJ, and now, 41 years later, I own a copy of her baby album that I got for $2.99 from Twist and Shout. It has heavy ring wear and the initials "JB" in the upper left hand corner. As for the music, it's all eminently listenable, if not consistently memorable: solid, somewhat hard-driving, early 70s rock, with some acoustic strands woven in here and there, and lots of Kantner fantasy/sci-fi lyrics about wizards and lizards and the like. But the album has stellar high points. Side one breaks down halfway through into a wonderful wash of outer space freakiness. And side two features "China," Slick's ode to her daughter, which begins, "She'll suck on anything you give her." It's just piano and swells of strings toward the end, and Slick's voice is magnificent as she sings of her child and the world: "It all comes in, so fast, it all comes in." Surely China has a fondness for that one.
Steve Hackett – Voyage of the Acolyte and Please Don't Touch!
Records by ex-Genesis ax man Hackett abound in the used vinyl racks, and they really put the old "don't judge a book by its cover" credo to the test, because almost all of them have hideously cheesy artwork. But some are full of great music, and are worth much more than their miniscule asking price. Odds are you can get a bunch for less than $20.
Voyage of the Acolyte
is generally agreed to be his best, and it's certainly the most psychedelic. One good friend described it to me as "blobular." Hackett's main gift, other than his stratospheric guitar playing, is his ability to craft complex and epic arrangements, and
Voyage
takes your ears around the world forward and backward through time. So does his second solo effort,
Please Don't Touch!
, the first to feature his mastery of a Roland GR-500 Guitar Synthesizer. The sounds shift from stuff that would be perfect for a sci-fi movie soundtrack, full of amplified drama and tension and weird sounds, to lovely strains of classical-inspired acoustic guitar, to late-70s guitar-god pop. The vocal tracks, few and far between, are a bit unexpected. They feature guest singers Richie Havens, Steve Walsh of Kansas and R&B siren Randy Crawford, a trio whose voices are so distinct that they would give the record a various-artists feel, were it not for the connective thread of Hackett's considerable composition talents.