The consensus seems to be that the Meat Puppets' second album, Meat Puppets II, is their best. Nirvana covered a few songs from it for their MTV unplugged release—"Plateau" "Oh, Me" and "Lake of Fire." Pitchfork named it one of the hundred best records of the 80s, and it's among the 1001 Albums You Must Listen To Before You Die. It's long been available as a Ryko vinyl reissue, complete with a gatefold cover that includes essays attesting to the album's status as a classic. And I agree; it's an all-time great. But I've always preferred the band's third release, Up On the Sun.
It's a more consistent and cohesive work than its predecessor, with no jarring transitions back and forth between screechy hardcore and jangling country. The sound is more mature and confident, fuller, more nuanced and layered. The beauty lies in the interplay between the Kirkwood brothers, Curt on guitar and Cris on bass, both of them spinning spirals of scales that blend and swirl in and out of one another, forming lovely moirés of sound—an effect that's enhanced by copious overdubbing. I got the album right before summer vacation between my sophomore and junior years in high school, listened to it everyday, several times a day, and I marveled at how I heard something new with each play. Yet it still feels and airy, not overwrought, because the sonic density is in service to a dozen wonderful songs, standard two-and-a-half minute affairs that are easy to hum along with, full of weird lyrics about "birds that dance on invisible air" and "pistachios" and a "hot pink tornado." All the singing is off-key, but somehow it sounds just right. If the lyrics were sung in tune, the album would be too slick and kind of boring (like some of the band's later albums).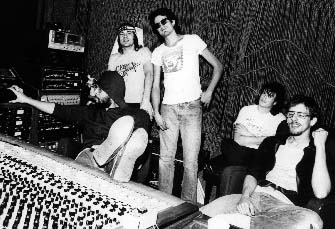 And it's a psychedelic album from an era that was decidedly unpsychedelic – the mid-1980s. Legend has it that when the Meat Puppets played at the Rainbow Music Hall in early 1984, a year before Up On the Sun came out, they were on somewhere between five and ten hits of L.S.D. Some readers may recall that they opened for Black Flag along with Nig Heist, who were hauled away in cuffs because they got naked on stage. Barry Fey himself apologized to everyone and promised to never allow such offensive crap to grace a Colorado stage again, oblivious to the fact that the audience was full of punks who were pleasantly entertained by such crap, and more offended by the likes of Barry Fey. Who knows if the rumor is true, but back then I believed it, and it deepened my appreciation for the band. In those days, Grateful Dead concerts were just about the only readily available option for hallucination chasers. I've never heard the Dead mentioned as a direct influence for the Meat Puppets, but Up On the Sun's relaxed but richly ornate sound suggests that they were, especially on "Swimming Ground," which bears an uncanny resemblance to "Sugar Magnolia." It makes sense, too, because Greg Ginn, who ran SST, the Meat Puppets' record label back then, was (and is) a major Dead Head, which was pretty radical back then: SST was a punk label, and hippy music was blasphemy against the dogma of punk, which the Meat Puppets abandoned entirely for their third record. So it's not only a classic example of tenacious psychedelia, it's an historical artifact, and a significant one, because it, along with a handful of other albums, many of them released on SST, documents pretty much the exact moment when punk broke open and paved the way for post punk and the whole wonderful DIY scene we have going today.